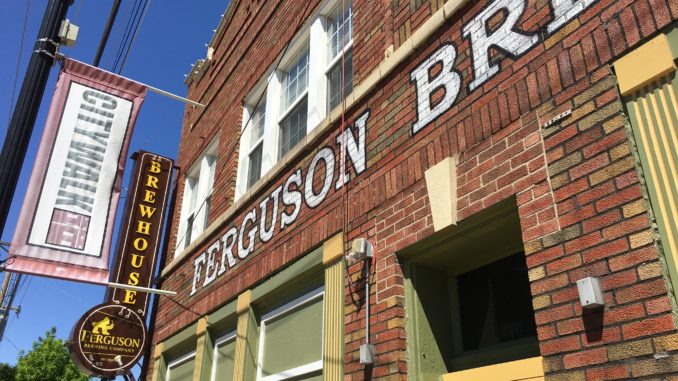 Brewpubs are not a "trend" by any means, as they have been in business in St. Louis since at least 1991 when Schlafly opened their Tap Room just west of downtown.  The practice of pairing a limited or full menu to compliment the beer being brewed in the next room is growing here in St. Louis and it's glorious.
One such brewhouse that has long to return to is Ferguson Brewing Company. When you drive up to the location along South Florissant Road, the first thing that comes to your mind is, 'what a spectacular building for a bar', for it's exactly the kind of building that many of us who've dreamed of opening our own brewery or bar, dream about.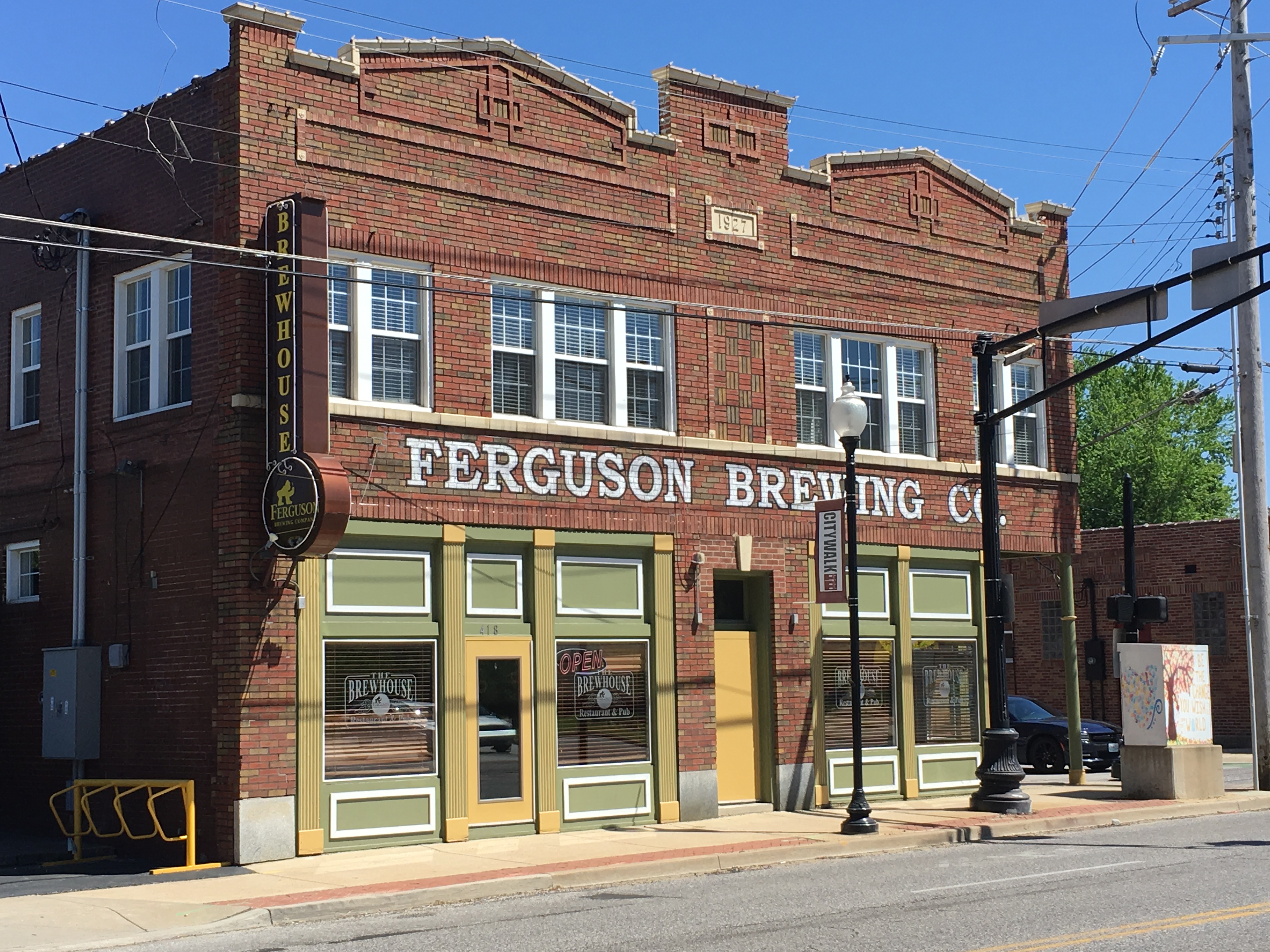 Upon entering, you'll find a charming atmosphere of wooden tables and clever beer centric artwork surrounding an inviting center bar.  The bar is open and is the room's focal point, but your eye is quickly drawn to the giant chalkboards offering up the current beer menu as well as where Ferguson beers are available around our area.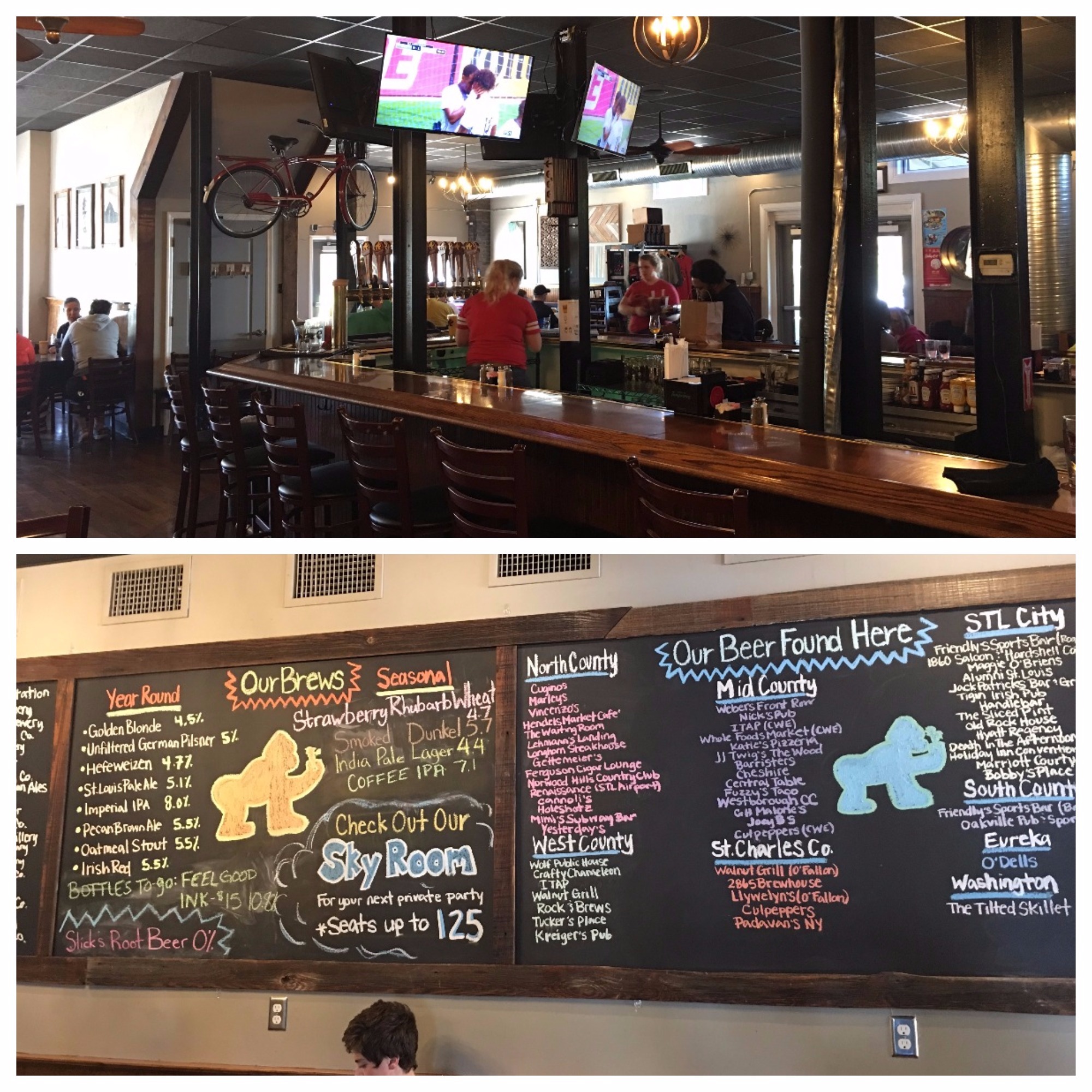 Breweryogaphy
Joe Lonero opened his brewery in April of 2010 in Historic Downtown Ferguson in the old St. John Liquor Store. Originally the brewery was to be called Hill Brewing Company with Ray Hill being the head brewer, but the partnership never came to be and Joe quickly took the name of his new neighborhood and the Ferguson Brewing Company was born.   The original brewer, Josh Wilson, created many of the great recipes for the beers still served on the taps today including their flagship Pecan Brown Ale.
Their brewing philosophy is simple, they truly do try to provide something for everyone.  They keep 8 beers on tap year round, allowing head brewer Taylor Wright the freedom to experiment and showcase his creativity with an additional 5 seasonal taps. They also work extensively with local companies to collaborate on brews and source as many local ingredients as possible.
Ferguson has two new beers you'll want to try, both part of two new collaborations with local businesses.  The first is Coffee IPA and was created in partnership with La Coshecha out of Maplewood. "We used a single origin Guatemalan coffee bean that was roasted to a special strength just for us," said Wright.  This beer has all the aromas and roastiness of a shot of espresso and all the crisp citrus-ness of an IPA.  The beer may sound odd but the flavors truly do work nicely together.
The second collaboration beer is called Aquaponic Kolsch and was brewed in partnership with Strawhat Aquaponics, a neighbor of Ferguson Brewery. "The boys over at Strawhat Aquaponicly grew us a whole mess of lemon basil that we used for the beer. We infused the fresh lemon basil into the beer at the boil stage. The beer has a very strong basil aroma but drinks like a crisp lemon/Citrus beverage.
What We Drank 
Pecan Brown Ale
5.5 % ABV | 30 IBU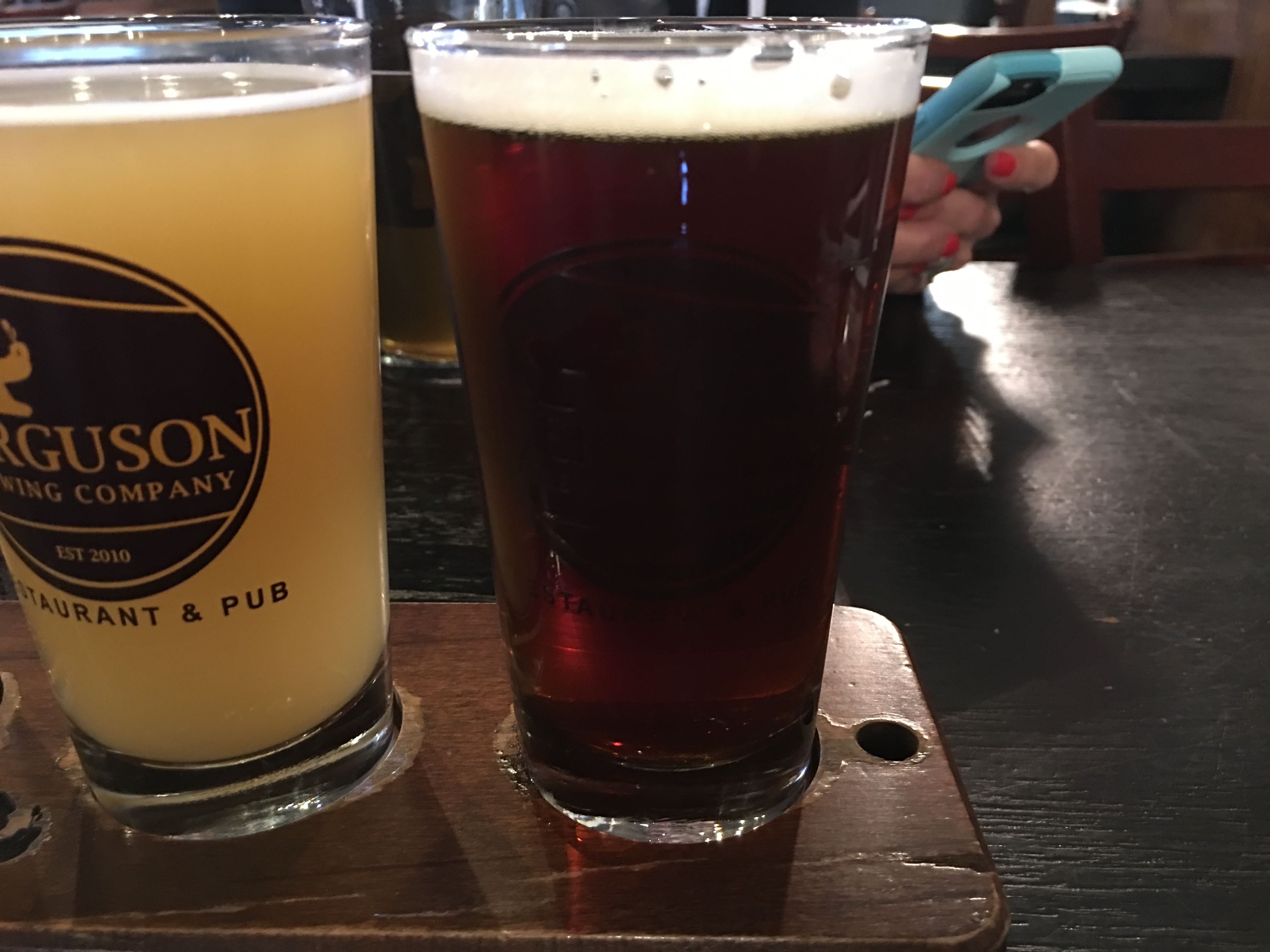 I am partial to American Brown Ales, so I when I'm drinking crap, I know it.  This beer is stellar with the addition of pecans to provide a fine, nutty flavor.
Color & Clarity
The beer pours a dark brown.  Hazy and creamy looking.  
Carbonation & Head
Average carbonation with a thin frothy head. 
Aroma
The beer gives off aromas of roasted chocolate and a strong nuttiness. 

Flavor
You'll get a medium body mouthfeel. The first burst of malt with a dab of chocolate, perhaps some caramel and of course the pecans.  The rest of the beer remains consistent and pleasurable.   
This is the primary flagship beer of the brewery and available for distribution year round.
"We wanted to provide something a shade different than your traditional American Brown for drinkers.   We wanted to give them something that just pops. We found using various specialty malts gave us a great nutty flavor and Pecan Brown was born," said Wright.
---
St. Louis Pale Ale
5.1 % ABV | 40 IBU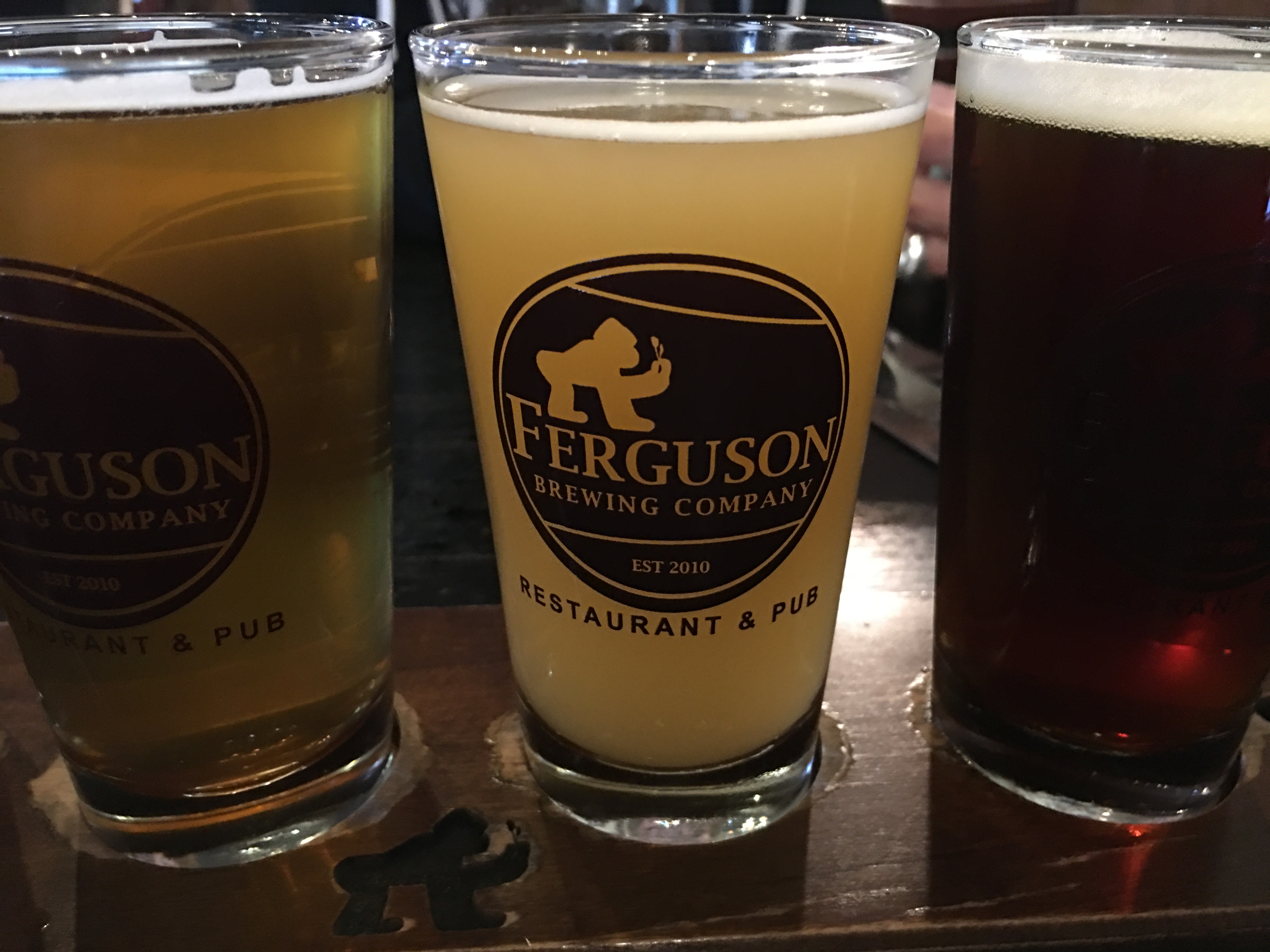 This is a great beer for people looking to get a hoppy beer but without all the harshness.
Color & Clarity
The beer pours hazy yellow orange or gold.
Carbonation & Head
Average carbonation with a thin frothy head.
Aroma 
A bit of fruit, maybe lemon or grapefruit. A tad of pine maybe.
Flavor
Strong with a crisp bitterness that is quickly washed away with pleasant tones of grapefruit and mandarin orange. Hoppy, but not over my hop line.
"STL Pale is the other beer we have available year round for distribution and is the best seller in the actual brewhouse," said Wright. "We want to give the customer a true American Pale Ale and let the hops steal the show."
---
This beer was originally created on the small batch system to be tapped on Pi Day (
March 14
). After going over very well with customers it was requested that the beer stay for the spring and that we go ahead brew a full batch.
Color & Clarity
The beer poured a beautiful hazy gold with a slight pinkish tint.
Carbonation & Head
Average carbonation with a thin frothy head. 
Aroma 
Fresh strawberry, ripe rhubarb.
Flavor

A light, summer beer with a light sweetness from the strawberry blending perfectly with the banana and clove from the base beer, to create an overall well-crafted beer that's not too sweet or tart.
---
Smoked Dunkel

5.70% ABV | 0.0 IBU
I've not had many smoked beers so I'm still learning them, but I found one pleasant enough to want to continue my education.
Color & Clarity
The beer poured a dark amber  
Carbonation & Head
Average carbonation with a thin frothy head. 
Aroma 
Banana, smoke, and caramel.
Flavor
The beer drinks to a medium mouth-feel and the smoke flavors played really nicely with the caramel malts and raw to create a unique wheat beer experience.
"This beer was the brainchild of my assistant at the time John Simon who is now one of the owners and head brewer over at Two Plumbers in St. Charles. John loved to explore the nuances of what smoke could do to a beer so I proposed a challenge to him to see what he could do with Hefe yeast. A month later we had a new top selling seasonal on tap."
---
What We Ate
Beer aside, what makes Ferguson Brewing such a remarkable brewpub, is its menu.  It's not a tasting menu, it's a full on, restaurant menu that would stand on its own regardless of the beer on tap.
Each section has multiple tasty choices.  Here were some of our favorites from each section, as well as a few from you on Instagram:
Snacks and Dips

Hummus

– Garlic and roasted red pepper is their twist on this app classic. Garnished with red pepper and olives and served with warm pita.

Great Beginnings

Smoked Chicken Wings

– I have to try everyone's smoked wings.  These are good.  I liked them because they come dry rubbed and then you can choose your sauce.  I went with Buffalo, but next time I'm going with teriyaki.

Soups

French Onion

– Again, always have to go with French Onion, but their beer cheese soup will be ordered next time.

Salads

My wife went with the

Strawberry Fields

and went with the

BBQ

.  Both salads were oversized but served in a bowl large enough to hack it.  I hate big salads in small bowls.  The Strawberry Fields comes with mixed leaves, candied pecans, diced pineapples, fresh strawberries, bacon, bleu cheese, and smoked chicken breast.and served with the house vinaigrette, on the side.   My BBQ salad was a heaping bowl of lettuce, red onion, diced tomatoes, roasted red peppers, corn and fried tortilla strips, topped with BBQ pulled pork.  Both salads were fantastic.

Sliders

We did not have any sliders, but from what I've seen social media, I'll recommend the

Pot Roast slider. 

Wraps

We did not a wrap, but from what I've seen on social media, I'll recommend the

Turkey Club

.

Flat Bread Pizzas

On a previous visit, I had and recommend the

Margherita

with chicken added.

Burgers

Burgers and beer just go so well together, so when confronted with burger choice at a brewpub, I find myself always going with the something akin to the house burger.  In this case, the

Brew House

– a half pound of seasoned ground chuck and topped with two kinds of cheese, your choice.

Entrees

I've been on a taco kick of late, both fish and brisket to more precise.  The BBQ brisket here is really under-rated.  On a previous visit, I had the

Bricket Tacos

, and they were fantastic.