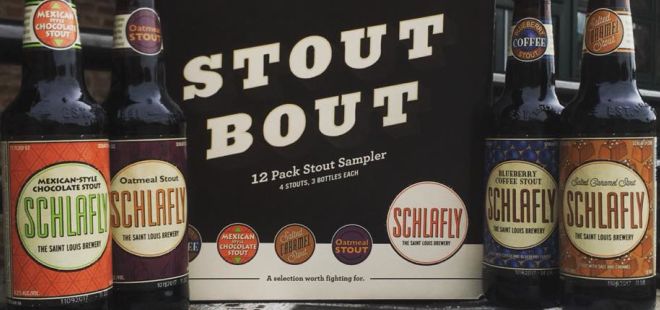 The stout season has officially begun.  Last week's annual release of Goose Island's Bourbon County Stout and its variants had beer lovers scouring beer shelves, waiting in line and snapping and posting lots of pictures of their yearly haul.  Now that the BCS's are all now chilling in the fridge, it's time to enjoy the release of new winter stouts from all across the country.
Locally, a bounty of stout beers are now available thanks to Schlafly Beer's release of one of their most popular sampler packs: the Schlafly Stout Bout. A selection "worth fighting for," this year's four stouts include: the brewery's classic Oatmeal; last year's winning flavor of Mexican Chocolate; and two new additions with Blueberry Coffee and Salted Caramel.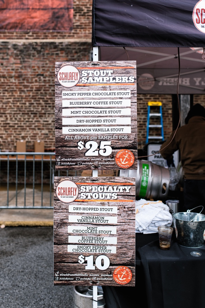 The Stout Bout name is a play on the boxing term for a match, and the "winning" selections featured in the sampler are determined by the crowd favorites at Schlafly's annual Stout and Oyster Festival.
The festival is for both beer lovers who love oysters and oyster lovers who also love beer. The brewery flies in 70,000 oysters and 25 shuckers from both coasts for one of the largest oyster festivals in the country.
Last year we got to sample over 15 specialty stouts with unique flavors from Smoky Pepper Chocolate to Cinnamon Vanilla. Blueberry Coffee and Salted Caramel were two of the outstanding stouts the folks I talked too.
Ambassador Brewer Stephen Hale explains, "The sampler packs are about an ongoing conversation. Our festivals give us true feedback from our consumers, and we listen to that for the following year. Stout & Oyster Festival also allows our brewers to showcase their craft with brewing stouts. Our festival-goers see what our brewers can do, and we get a good litmus test before distribution about what consumers will enjoy."
The sampler always features one of Schlafly's classic stouts (Oatmeal, this year) and one variety had to make a return appearance: Mexican Chocolate Stout. Hale explains, "It was received with a huge fanfare online last year so we brought it back for this year's pack."
Inside the pack, you'll find these for brews.
Blueberry Coffee Stout (5.7% ABV, 30 IBUs): Just the right balance of sweetness and bite. Locally roasted coffee coupled with the flavor of seasonal blueberries.
Mexican Chocolate Stout (6.2% ABV, 25 IBUs): A classic American stout inspired by all the characteristics of real, Mexican-style hot chocolate. Creamy, roasty, sweet elements provide a perfect base for the addition of the cocoa nibs, which we add directly to the fermenter to age until their finest flavors blend with the stout. The addition of cinnamon adds a kick that balances well with all the flavors in this beer.
Salted Caramel Stout (6.5% ABV, 30 IBUs): It's unapologetically rich and creamy. Using sea salt and caramel for a smooth, sweet and bold declaration of decadence.
Oatmeal Stout (5.7% ABV, 40 IBUs): This classic, British-style stout is dark, smooth and slightly sweet, with just enough bitterness and hops to balance out the richness of the roasted malt's nutty character and the creaminess of the oatmeal flakes. Freshly roasted coffee beans, cocoa and touches of raisin and dried fruit dominate the aroma of this super dark ale.