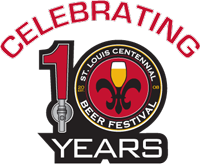 Beer festivals can be amazing, a place to gather with friends, make new ones while sampling and discovering the best or the newest or the most experimental beers the mad genius' behind the table can imagine.  But beer festivals, especially the big ones can be a bit overwhelming.
The Centennial Beer Festival, (February 19-24), is set for its closing day and its 10th year and tickets are still available for the afternoon tasting session and VIP Session from 2 to 5 as well as the evening sessions from 6 to 9.
The festival is held in the Lafayette Square neighborhood of St. Louis in a restored malt house built in 1876 for the Schnaider Brewery.   There are multiple historical rooms to explore while you taste the 80+ breweries and more than 200 beers.
Once again the festival will be working with the St. Louis Area Food Bank to raise money for those in need and appreciate any support to get the word out.
Current Schedule
Saturday, February 24th, 2018
Afternoon: 2 – 5 p.m.
Beer Tasting
$38.00
+Tax & Ticket Fees
Evening: 6 – 9 p.m.
Beer Tasting
(Sold out last year)
$38.00
+Tax & Ticket Fees
Saturday only
VIP Experience in the Malt House Cellar
VIP Experience
Limited Availability
Extra $25.00
+Tax & Ticket Fees
| | | |
| --- | --- | --- |
| Brewery | Beer | Location |
| Against The Grain Brewery | Pile of Face IPA | 1st Floor |
| Big Muddy | Blueberry Blond | 1st Floor |
| Big Muddy | S'mores Stout | 1st Floor |
| Evil Twin Brewing | Mission Gose | 1st Floor |
| Evil Twin Brewing | Kolata Imperial IPA | 1st Floor |
| Marz Community Brewing | Chug Life | 1st Floor |
| Santa Fe Brewing Co. | 7K IPA | 1st Floor |
| Santa Fe Brewing Co. | Imperial Java Stout | 1st Floor |
| Stillwater Artisanal | Cellar Door Saison | 1st Floor |
| Stillwater Artisanal | Insetto Sour | 1st Floor |
| Topo Chico | Sparkling Mineral Water | 1st Floor |
| Blackberry Farm Brewery | 18 month Brett Saison | 1st Floor |
| Blackberry Farm Brewery | Farm Classic Saison | 1st Floor |
| Nebraska Brewing Co. | Melange a Trois | 1st Floor |
| Nebraska Brewing Co. | Cardinal Pale Ale | 1st Floor |
| Omnipollo | Pleroma Sour | 1st Floor |
| Mark Twain | Chocolate Coffee Stout | 1st Floor |
| Mark Twain | Rambler Red Ale | 1st Floor |
| Pacific Coast Cider | Pinot Grigio Cider | 1st Floor |
| Pacific Coast Cider | Blueberry Zinfandel Cider | 1st Floor |
| Pacific Coast Cider | Wild Cherry Cider | 1st Floor |
| Crown Valley | Gateway Arch Ale | 1st Floor |
| Crown Valley | Blackberry Cider | 1st Floor |
| Crown Valley | Yukon Cornelius Belgian Tripel | 1st Floor |
| Crown Valley | Coffman Coffee Stout | 1st Floor |
| Blue Point | Toasted Lager | 1st Floor |
| Blue Point | Citrus Plunge IPA | 1st Floor |
| Breckenridge | Vanilla Porter | 1st Floor |
| Breckenridge | Snow Glare Hoppy Wheat | 1st Floor |
| Deschutes | Inversion IPA | 1st Floor |
| Deschutes | Fresh Squeezed IPA | 1st Floor |
| Deschutes | Red Chair NW Pale Ale | 1st Floor |
| Elysian | Space Dust IPA | 1st Floor |
| Elysian | Day Glow IPA | 1st Floor |
| Elysian | Split Shock Espresso Milk Stout | 1st Floor |
| Golden Road | Wolf Pup | 1st Floor |
| Golden Road | Mango Cart | 1st Floor |
| Golden Road | Get up offa that Brown | 1st Floor |
| Hoegaarden | Witbier | 1st Floor |
| Kona Brewing Company | Kanaha Blonde | 1st Floor |
| Kona Brewing Company | Koko Brown | 1st Floor |
| Kona Brewing Company | Hanalei IPA | 1st Floor |
| Leffe | Blonde | 1st Floor |
| Leffe | Brune | 1st Floor |
| Ace Cider | Pear | 1st Floor |
| Ace Cider | Pineapple | 1st Floor |
| Ace Cider | Space | 1st Floor |
| Avery | Real Peel Tangerine | 1st Floor |
| Avery | White Rascal | 1st Floor |
| Brasserie Du Bocq | Blach De Nam | 1st Floor |
| Brooklyn-Chouteau Bar | Bel Air Sour | 1st Floor |
| Brooklyn-Chouteau Bar | Defender IPA | 1st Floor |
| Brooklyn-Chouteau Bar | Lager | 1st Floor |
| Cider Boys | First Press | 1st Floor |
| Cider Boys | Grand Mimosa | 1st Floor |
| Cider Boys | Magic Apple Strawberry | 1st Floor |
| Firestone | Union Jack | 1st Floor |
| Firestone | Luponic | 1st Floor |
| Firestone | Merlin Nitro | 1st Floor |
| Founders | Solid Gold | 1st Floor |
| Founders | All Day IPA | 1st Floor |
| Founders | Azacca IPA | 1st Floor |
| Freestate | Mix Pack | 1st Floor |
| Funkwerks-Chouteau Bar | Raspberry Provincial | 1st Floor |
| Funkwerks-Chouteau Bar | Saison | 1st Floor |
| Funkwerks-Chouteau Bar | Tropic King | 1st Floor |
| Genessee | Cream Ale | 1st Floor |
| Genessee | Simcoe Smash | 1st Floor |
| Genessee | Dark Chocolate Scotch Ale | 1st Floor |
| Great Divide | Claymore Scotch | 1st Floor |
| Great Divide | Hop Disciples | 1st Floor |
| Great Divide | Orabelle | 1st Floor |
| Left Hand | IPA | 1st Floor |
| Left Hand | Smoke Jumper | 1st Floor |
| Left Hand | Travelin' Light Kolsch | 1st Floor |
| Left Hand | Chai Nitro Milk Stout | 1st Floor |
| New Holland | Extra Time | 1st Floor |
| New Holland | Hoptronix | 1st Floor |
| North Coast | Pranqster | 1st Floor |
| North Coast | Scrimshaw Pilsner | 1st Floor |
| Oskar Blues | Dales Pale Ale | 1st Floor |
| Oskar Blues | Ltl Yella Pils | 1st Floor |
| Oskar Blues | Pinner | 1st Floor |
| Rogue | Paradise Pucker | 1st Floor |
| Rogue | Dead Guy Ale | 1st Floor |
| Seattle Cider | Tangerine & Tumeric | 1st Floor |
| Seattle Cider | Basil Mint | 1st Floor |
| Ska | Pink Vapor Stew | 1st Floor |
| Stone | Ripper Ale | 1st Floor |
| Stone | Tangerine Express | 1st Floor |
| Tallgrass | Raspberry Jam | 1st Floor |
| Uinta | Lime Pilsner | 1st Floor |
| Sudwerks | Dry Hop Lager | 1st Floor |
| Sudwerks | Dopplebock | 1st Floor |
| Lost Coast | Great White Ale | 1st Floor |
| Schmaltz | She'brew Double IPA | 1st Floor |
| Schmaltz | Death Hoppy Black Ale | 1st Floor |
| Blue Blood | Outlaw Series Malbrett-Farmhouse | 1st Floor |
| Steampunk | TBD | 1st Floor |
| Ballast Point | Sculpin | 1st Floor |
| Ballast Point | Grapefruit Sculpin | 1st Floor |
| Ballast Point | Fathom IPA | 1st Floor |
| Ballast Point | Bonito Blonde Ale | 1st Floor |
| Ballast Point | Sour Wench (taken out of inventory) | 1st Floor |
| Bells | Larry's Latest | 1st Floor |
| Bells | Amber Ale | 1st Floor |
| Bells | Two Hearted | 1st Floor |
| Big Sky | Moose Drool cans | 1st Floor |
| Big Sky | Trout Slayer cans | 1st Floor |
| Big Sky | Griz lager cans | 1st Floor |
| Big Sky | Shake a day IPA cans | 1st Floor |
| Blue Moon | Variety Pack | 1st Floor |
| Dogfish Head | 60 Minute IPA | 1st Floor |
| Dogfish Head | Flesh & Blood | 1st Floor |
| Guinness | Guinness Blonde draft | 1st Floor |
| Guinness | Sampler Pack | 1st Floor |
| Lagunitas | IPA | 1st Floor |
| Lagunitas | Cappaccino Stout 22's | 1st Floor |
| Lagunitas | Lil Sumpin Easy cans | 1st Floor |
| Lagunitas | 12th of Never | 1st Floor |
| Leinenkugel | LEN Variety Pack 12 pack | 1st Floor |
| New Belgium | Fat Tire White | 1st Floor |
| New Belgium | Fat Tire BSA | 1st Floor |
| New Belgium | Voodoo Ranger Juicy Haze IPA | 1st Floor |
| New Belgium | Tartastic Raspberry Lime | 1st Floor |
| Odell | Limited Montage cans | 1st Floor |
| Ommegang | Pale Sour draft | 1st Floor |
| Ommegang | Rosetta bottles | 1st Floor |
| Ommegang | La Chouffe bottles | 1st Floor |
| Sam Adams | Sam Adams 76 | 1st Floor |
| Sam Adams | Angry Orchard Rose | 1st Floor |
| Sam Adams | Truly Wild Berry | 1st Floor |
| Sierra Nevada | Hazy Little Thing | 1st Floor |
| Sierra Nevada | Hop Bullet | 1st Floor |
| Sierra Nevada | Pale Ale | 1st Floor |
| Sierra Nevada | Tropical Torpedo | 1st Floor |
Brewery
Beer
Location
Morgan Street
TBD
2nd Floor
AB-Pilot Brewery
Black IPA
2nd Floor
AB-Pilot Brewery
Chocolate/Cookie Ale
2nd Floor
AB-Pilot Brewery
Citrus IPA
2nd Floor
AB-Pilot Brewery
Chocolate/Raspberry Stout
2nd Floor
Bastard Brothers
American Wheat
2nd Floor
Bastard Brothers
American Bock
2nd Floor
Center Ice Brewery
Nash Year's Eve
2nd Floor
Center Ice Brewery
Grim Reaver Red IPA
2nd Floor
Center Ice Brewery
Brunch Stout
2nd Floor
Center Ice Brewery
Strawberry Picker IPA
2nd Floor
Friendship Brewing
Rasmanian Devil – Raspberry Jalapeno Ale
2nd Floor
Friendship Brewing
Graceland Kingnut Porter – Coffee and Hazelnut Porter
2nd Floor
Friendship Brewing
Mitte Flusse – German Pilsner
2nd Floor
Friendship Brewing
Pitman Pale Ale
2nd Floor
Griesedieck
Pale Ale
2nd Floor
Griesedieck
Wheat
2nd Floor
2nd Shift
Little Big Hop
2nd Floor
2nd Shift
Pale Ale
2nd Floor
2nd Shift
Hibiscus Wit
2nd Floor
Ferguson
Pecan Brown
2nd Floor
Ferguson
STL Pale Ale
2nd Floor
Goose Island
Fulton Street Coffee
2nd Floor
Goose Island
312 Urban Wheat
2nd Floor
Goose Island
Cooper Series #2 Blond Dopplebock
2nd Floor
Mother's Brewing
Lil' Helper
2nd Floor
Mother's Brewing
Sunshine Chugsuckle
2nd Floor
Mother's Brewing
Trop Top Pale Ale
2nd Floor
O'Fallon
Dunkel Down
2nd Floor
O'Fallon
Big Walt
2nd Floor
O'Fallon
Show Me IPA
2nd Floor
Main & Mill
TBD
2nd Floor
4 Hands
Absense of Light
2nd Floor
4 Hands
Cash Money
2nd Floor
4 Hands
Zellig
2nd Floor
4204 Main Street
Pecan Brown
2nd Floor
4204 Main Street
Off Duty Lager
2nd Floor
4204 Main Street
2 Hop IPA
2nd Floor
Civil Life
Porter Ale
2nd Floor
Civil Life
STL Best Ale
2nd Floor
Civil Life
Northern English Brown
2nd Floor
Logboat
Bear Hair Belgian Blonde
2nd Floor
Logboat
Bobber Lager
2nd Floor
Logboat
Coffee Mamoot
2nd Floor
Public House
Soest Rd Belgian Dubel
2nd Floor
Public House
Stick it up your Alt
2nd Floor
Public House
Flynn's Irish Stout
2nd Floor
Public House
Frisco Lager
2nd Floor
Urban Chestnut
Urban Underdog
2nd Floor
Urban Chestnut
Kinsale
2nd Floor
Urban Chestnut
Triticum
2nd Floor
Urban Chestnut
Schlossturm
2nd Floor
Modern Brewing
TBD
2nd Floor
Schwerpunct 

Saturday PM Only

Pina Colada Berliner
2nd Floor
Schwerpunct 

Saturday PM Only

Key Lime Pie
2nd Floor
Schwerpunct 

Saturday PM Only

Blby Milkshake NE IPA
2nd Floor
Earthbound
Irish Red
2nd Floor
Earthbound
Meteor IPA
2nd Floor
Earthbound
Mahlab ESB
2nd Floor
Heavy Riff
Velvet Underbrown
2nd Floor
Heavy Riff
Squeezebox Lemon Wheat
2nd Floor
Heavy Riff
Left Coast Envy IPA
2nd Floor
Point Labidie
Batch 1 Saison
2nd Floor
Point Labidie
Goodle Day IPA
2nd Floor
Point Labidie
American Stout
2nd Floor
Missouri Beer Company
Kolsch
2nd Floor
Missouri Beer Company
English Mild IPA
2nd Floor
Missouri Beer Company
Red Rye IPA
2nd Floor
Bur Oak
Old 63 American Pilsner
2nd Floor
Bur Oak
Boone County Brown
2nd Floor
Bur Oak
Big Tree IPA
2nd Floor
Destihl
Flanders Red Wild Sour
2nd Floor
Destihl
Here Gose Nothin'
2nd Floor
Six Mile Bridge
Double Dry Hopped Citra IPA
2nd Floor
Six Mile Bridge
Irish Red with Honey
2nd Floor
Six Mile Bridge
Cinnamon Maple Stout
2nd Floor
Square One
Dunkel Weizen
2nd Floor
Square One
Winter Lager
2nd Floor
Square One
Double Pilsner
2nd Floor
Square One
Irish Stout
2nd Floor
St. Nicholas 

Saturday Only

TBD
2nd Floor
Augusta
IPA
2nd Floor
Augusta
Jaded Bitch
2nd Floor
Boulevard
Jam Band 1/6
2nd Floor
Boulevard
Bourbon Barrel Quad 1/6
2nd Floor
Boulevard
Pale Ale 1/6
2nd Floor
Boulevard
Tank 7 1/6
2nd Floor
Broadway
300 IPA
2nd Floor
Broadway
Porter
2nd Floor
Broadway
Dbl rye
2nd Floor
Charleville
Karate Kicks Coffee Stout
2nd Floor
Charleville
Tornado Alley
2nd Floor
Charleville
Hoptimistic
2nd Floor
Charleville
Long White Cloud – Cans
2nd Floor
Kirkwood
Blackberry Wheat
2nd Floor
Kirkwood
IPA
2nd Floor
Kirkwood
Funky Pineapple (BA Brett Saison)
2nd Floor
Kirkwood
Green Mistress (traditional gruit)
2nd Floor
Old Bakery
Golden Oat
2nd Floor
Old Bakery
Centennial White
2nd Floor
Old Bakery
Porter
2nd Floor
Old Bakery
A Town of Brown
2nd Floor
Schlafly
Schlafly White
2nd Floor
Schlafly
Schlafly Double Bean Blonde
2nd Floor
Schlafly
Schlafly Pilsner
2nd Floor
Schlafly
Schlafly Coffee Stout
2nd Floor
Cathedral Square
Honey Razz
2nd Floor
Cathedral Square
Abbey Ale
2nd Floor
Cathedral Square
Balthazor Belgian Stout
2nd Floor
Cathedral Square
White Ale
2nd Floor/Brewmaster Dinner
Cathedral Square
Honey Razz
Brewmaster Dinner
Cathedral Square
Balthazor Belgian Stout
Brewmaster Dinner
Cathedral Square
Repent Rye
Brewmaster Dinner
Cathedral Square
Holy Moly
Brewmaster Dinner
| | | |
| --- | --- | --- |
| Brewery | Beer | Location |
| Deschutes | Pinot Suave | VIP |
| Elysian | Kappa IPA | VIP |
| 2nd Shift | Coffee LSD | VIP |
| Goose Island | Brasserie Noir | VIP |
| Mother's Brewing | Rum Barrel MILF | VIP |
| Avery | Fimbulvvinter Belgian BA Quin | VIP |
| Firestone | Sucaba | VIP |
| Founders | CBS | VIP |
| North Coast | Old Stock Cellar Reserve Wheat | VIP |
| Oskar Blues | BA Ten Fidy | VIP |
| Squatters | Outer Darkness Russian Imperial Stout | VIP |
| Stone | TBD | VIP |
| Ballast Point | Victory at Sea (barrel aged) (taking out of inventory) | VIP |
| Boulevard | Whiskey Barrel Stout 4pk | VIP |
| Charleville | Box of Chocolates | VIP |
| Lagunitas | Eroica | VIP |
| New Belgium | Imperial Frambozen | VIP |
| New Belgium | Sour Saison | VIP |
| Ommegang | 20th Anniversary gift packs | VIP |
| Dogfish Head | Bitches Brew BA Stout | VIP |
| Schlafly | BA Scotch Ale | VIP |
| Bells | Concecrater Dopplebock | VIP |
| Lagunitas | Dry Hop Lager – Censored | VIP |