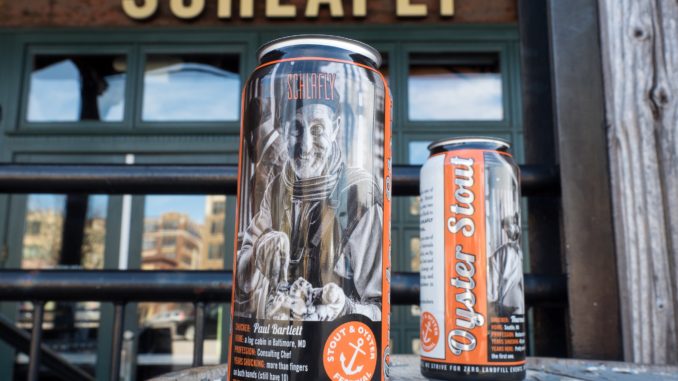 When you date, fall in love and eventually marry a girl from New Orleans, you learn right away to listen to her father if you know what's good for you. The first lesson I learned was passed down to him from his father-in-law, "If you don't want to starve in this house, you better learn to suck the heads and eat 'em raw."  This, of course, refers to eating crawfish and oysters.  And I'm proud to say, when I'm down in the Easy, I don't starve.
Oysters are not for everyone and not every oyster is for anyone who loves oysters.  I happen to prefer oysters from the Gulf or the East Coast over the west coast, but I'll probably never turn down an oyster.
The key eating them is not over sauce, but use just enough fresh cocktail sauce to add some punch without drowning the oyster, so all your getting is a glomy base of sauce.
While New Orleans is my favorite place to eat oysters, my favorite event all-time is the Schlafly Stout & Festival.  This year will be the 19th annual festival and it's all going down the weekend of March 23rd and 24th at the historic Schlafly Tap Room (2100 Locust). This year, the event pays tribute to the individuals who make it so memorable: the shuckers. Limited edition cans of Schlafly's Oyster Stout will be available (at the festival only) with photographs and profiles of the brewery's bivalve-loving buddies.
And why not top yourself? Last year Schlafly flew in 70,000 oysters.  This year they've upped the ante to almost 80,000 oysters (flown in overnight to be the freshest possible) from both coasts and they are bringing in 25 shuckers for the weekend. Known as the "StarShuckers," the cast of characters work with oysters in a number of different ways outside the festival as chefs, oyster farmers, seafood suppliers and more.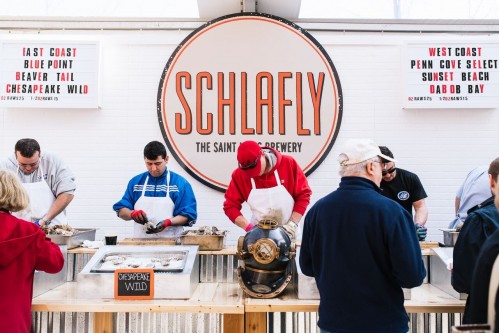 Founding Brewer Stephen Hale explains, "These men and women are family at this point. We also hear from guests that they look forward to the festival for the fun, but also to see and catch up with their favorite shucker. What better way to celebrate them than to raise a beer in their honor?"
Last year, Schlafly commissioned Photographer/Blogger Spencer Pernikoff (Whiskey and Soba) to capture photos of each of the shuckers. The brewery's marketing team selected eight shuckers to be featured on the cans–many of whom have traveled to the festival every year since its inception.
Hale says, "We had these beautiful photos, and someone jokingly said we should make baseball cards. It wasn't a bad idea! Stout & Oyster Festival is a big love fest so we hope these cans encourage guests to collect them and meet others at the festival. Go ahead and trade them with a neighbor, introduce yourself to your featured shucker and maybe grab a photo with them."
All shucker cans will be filled with Oyster Stout (5.7% ABV with 30 IBUs). Schlafly's Oyster Stout was crafted with toasty flavors of oatmeal, barley and oyster broth that complement the briny, juicy flesh of the mollusks quite well.
In addition to the Oyster Stout cans, they will have several bars with a variety of beers on tap from stouts such as Irish Extra Stout and Oatmeal Stout to year-round beers such as White Lager and Pale Ale. They also brew 15 stouts – some exclusive for the event and available as Stout Samplers, five, five-ounce beer samples. This year's flavors include everything from a Maple Bacon Stout to Mango Ancho Stout.
Guests can also enjoy oysters in a number of different ways from raw from both the East Coast (Bluepoint, Beaver Tail and Bay Shore) and West Coast (Sunset Beach, Wild Cat Cove and Dabob Bay), fried, Rockefeller and roasted. Additional specialty menu items will include oyster chowder and hushpuppies.
Live music and the grand finale of the East Coast vs. West Coast Shuck Off provides entertainment for attendees. The Shuck Off features three shuckers from each coast going head-to-head in a relay-style race to shuck, slurp and then chug a stout. The fastest time crowns the winner. The full schedule includes:
Friday, March 23rd
5:30 – 7:30pm: Falling Fences
8 – 10pm: Hazard to ya Booty
Saturday, March 24th
11am – 12:30pm: The Scandaleros
1 – 2:30pm: The Grooveliner
3 – 4:30pm: Big Mike Aguirre & the Blu City Allstars
5 – 6:30pm: Boudin Brothers Band
7 – 9:30pm: Funky Butt Brass Band
9:30- 10:00pm: East Cost VS West Coast VS Mid-Coast SHUCK OFF!
Stout & Oyster Festival takes place on Friday, March 23 from 5:30 p.m. to 10 p.m. and Saturday, March 24 from 11 a.m. to 10 p.m. at the Schlafly Tap Room. The festival is free to attend, and all food and beverage is available for purchase. For the ultimate Stout & Oyster experience, guests can purchase a Pearl Pass for $150 here for unlimited oysters and Schlafly beer (responsibly). See photos from past festivals here and here. For more information, visit www.schlafly.com/stoutandoyster or call 314-241-BEER.