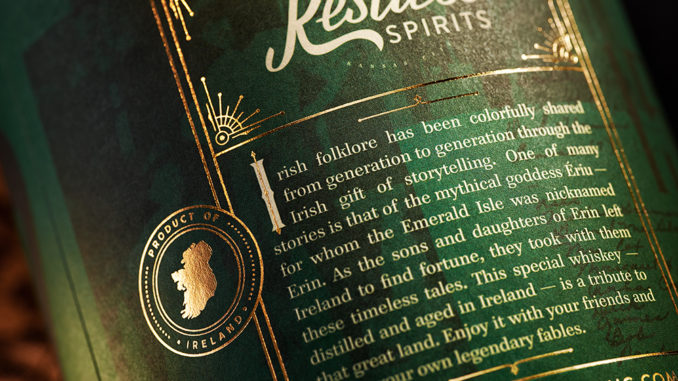 Missouri whiskey continues to capture my interest, and in 2018 I plan on giving the men and women who make it more of my attention.
To begin, I wanted to introduce my fellow whiskety lovers to my new friends from across the state, Restless Spirts Distilling is based in Kansas City, and I got the change to meet them and try some of their product at last November's Whiskey In The Winter, event.
At the festival, Restless was releasing two new whiskeys, Sons of Erin 15-year Single Malt Irish Whiskey; hand-selected by Master Distiller, Benay Shannon, and imported from Ireland with exclusive rights.
Gully Town Single Malt Whiskey and Kansas City's first locally distilled single malt whiskey crafted by Missouri's only female Master Distiller, Benay Shannon.
"Earlier this year we celebrated our third year in business. We knew big things were in store, but we couldn't have anticipated the pure excitement we see surrounding these two whiskey's," said Mike Shannon, President and Co-Founder of Restless Spirits Distilling.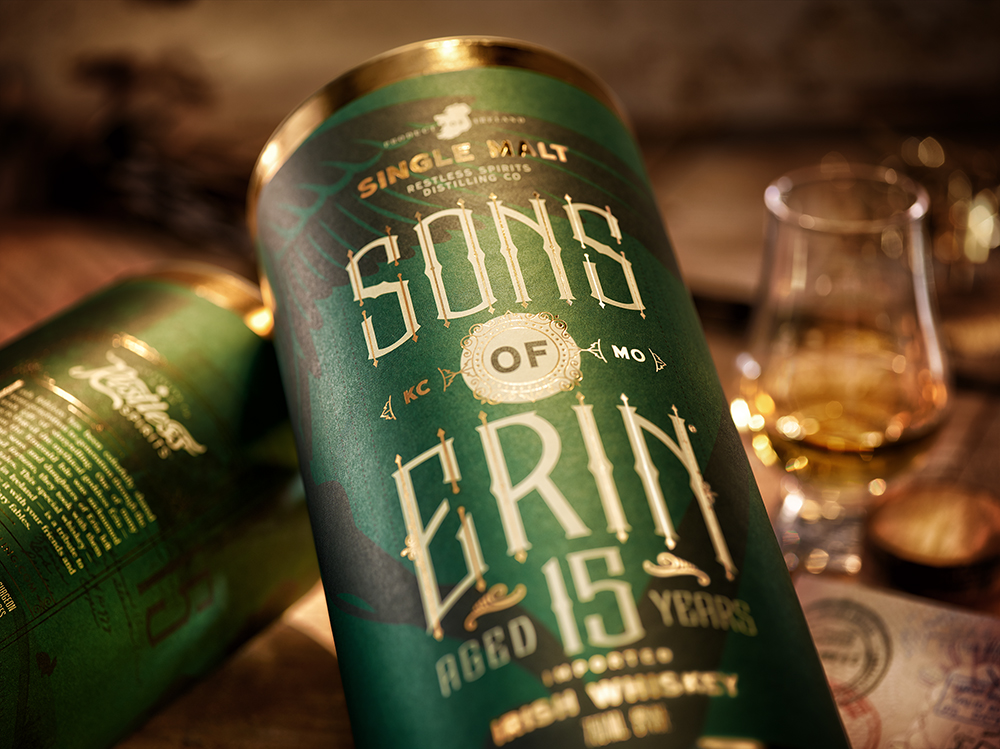 Sons of Erin
This is a  limited edition import whiskey from Dundalk, Ireland. Mike and Benay Shannon,traveled to Ireland and hand-selected a small number of barrels, with the help of John Teeling.
The whiskey itself is distilled and aged in Ireland—the nose is of green apples with hints of warm milk; palate is delicate with flavors of sweet cream and wood spices; finishes softly with notes of orchard fruit. Appropriately packaged for the holidays in a decorative gift canister featuring gold foil accents, this whiskey makes the perfect gift for any whiskey connoisseur or collector.
"With age-statement whiskeys becoming harder to find as a global demand for high-quality aged whiskey has depleted supply, we are fortunate to have the opportunity to bring this product to Kansas City whiskey fans," said Shannon.
Gully Town
This literally the first American single malt whiskey, 100% mashed, distilled and aged in Kansas City. Gully Town was the original nickname for Kansas City before it officially became a city in 1853. In the late 1800's, the area was home to a small community of Irish, Italian and German immigrants. These residents carved a community out of the rocky limestone bluffs, eventually becoming the thriving Midwestern "Camelot" that we know and love as Kansas City. GullyTown Single Malt Whiskey aims to honor that nearly-lost history of our great city.
The flavor profile of this whiskey is result of a unique double barrel aging process—first in new, charred oak barrels, drawing out butterscotch flavors and a wisp of smoke; continuing on to fresh bourbon casks, mellowing the whiskey and adding complexity with layers of vanilla and honey.
These two whiskeys add to a growing portfolio that includes:
Stone Breaker Irish & American Blended Whiskey
Sons of Erin Irish Whiskey
Builders Gin
Duffy's Run Vodka.
St. Louis whiskey drinkers can find Restless Spirits bottles all over the area. Here's list of bottle shops and bars and restaurants where you can find them:
Friar Tuck Beverage- Crestwood
Friar Tuck Beverage- Fenton
Friar Tuck Beverage- O'Fallon
Liquor Cabinet
LOL Lots of Liquor
Lukas Liquor Superstore
Randalls Wine & Spirits
Total Wine #1801- Town & Country
Total Wine #1803- Chesterfield
The Wine & Cheese Place
The Wine Merchant
Feasting Fox
Art Bar
Audubons Grill & Bar
Beer Sauce Shop
Blue Ocean Sushi
Barrel 131
Primo Vino
The Cellar
Ciao Ristorante & Enoteca  (Cape Girardeau)
Cork and Rind
Demun Oyster Bar
Gaslight Lounge
Intoxicology
Kabob International
Katy O'Ferrels Publick House (Cape Girardeau)
Kranzberg Arts Center
Monocle
The Naked Vine
Reeds American Table
Sidneys (Rolla)
St. Louis Symphony Orchestra
Sub Zero
Tick Tock Tavern
Wildflower West
Gamlin Whiskey House
---
More from Drink314
Oyster shuckers getting their due on new Schlafly stout cans for Oyster Fest!