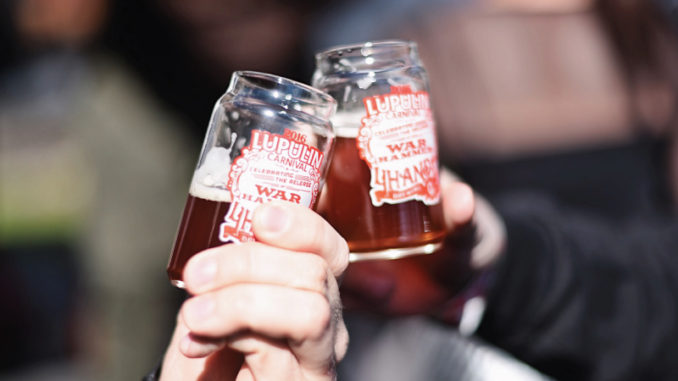 The 7th Annual Lupulin Carnival is Saturday, May 19th.  If you haven't purchased tickets yet, you can do so by following this link OR, you can try your shot at winning a pair of free GA tickets on our facebook page by clicking right here!
The thing I love about beer festivals of this magnitude is the guest brewers who come to town specifically to introduce themselves to the St. Louis market.  I've perused the brewery list and I'm creating a game plan to make sure I get to try as much beer from the following out-of-towners as I can, based simply on the fact that I've never tried any beer from any of them.
---
Blackberry Farm Brewery
Walland, Tennessee
They create beers for a moment. Whether it is celebrating a special occasion, pairing with fine food, recreating, or just enjoying the day. The right beer is the perfect complement to marks life's moments both big and small.
Their bottled beers utilize a natural re-fermentation in the bottle, which produces a soft and pleasant carbonation. Every bottle that leaves our brewery has been conditioned in our temperature controlled cellar to ensure that you get the highest quality with each pour.
3 Beers I hope They Bring

Peel Your Face Orange IPA | 6.3 ABV | 40

Yazoo Brewing Company and Blackberry Farm Brewery teamed up to create a bright, cloudy IPA with standout citrus flavor.

Tennessee Cream Ale | 6.3% ABV | 34 IBU

The second release in their Native Family of beers, draws its inspiration from the rich agricultural and culinary heritage that guides our brewing program,

Abbey Tripel | 9% ABV | 24 IBU

A strong, golden ale with a warm, satisfying character, our robust Tripel honors the tradition of Belgian-style beers brewed to stand alone or pair with a variety of flavors.
---
Dangerous Man Brewing Co.
Minneapolis, Minnesota
They are a destination microbrewery & taproom located in NE Minneapolis. Their focus is high-quality, small-batch production beers with ever-changing taps.  
3 Beers I hope They Bring
House IPA | 7.6% ABV | 70 IBU

Citrus and an especially fruity yeast profile round out this India Pale Ale. Medium-bodied, the wheat addition sneaks into the malt profile of this beer and helps to highlight the grapefruit and orange flavorings. A pleasant, lingering bitterness finishes the beer.

Imperial IPA | 10.1% ABV | 95

Ripe stone fruit, candied pineapple with hints of pine and crisp grapefruit. a medium malt body balances but allows a pleasant but not overwhelming bitterness to finish the beer.

Tangerine Milkshake IPA

Nothing was written about this one, but how does the name sound?
---
Trophy Brewing Company
Raleigh, North Carolina
Established in 2012, Trophy Brewing Co. is home to three unique experiences nestled in the heart of Downtown Raleigh that bring people together through craft beer, thoughtful food and intentional community.
3 Beers I hope They Bring
Milky Way | 5.3 ABV

Salted Caramel Sweet Stout

Industry Rule 4080 | 6.7 ABV
Cloud Surfer | 6.1 ABV
---
Sun King Brewing Co.
Indianapolis, Indiana
Sun King Brewing Company is an Indianapolis-based craft brewery with a focus on continually creating traditional seasonal and unique specialty beer. Sun King rolled their first keg of beer out of the door in July 2009 and since that time has grown into one of Indiana's largest and most award-winning breweries, with multiple medals at the Great American Beer Festival® and the World Beer Cup®.
3 Beers I hope They Bring
Osiris Pale Ale | 5.6 ABV | 50 IBU

Osiris Pale Ale is an assertive West Coast-Style Pale with a distinct citrus hop punch.

SKB IPA American IPA | 6.5 ABV | 70 IBU

SKB IPA is an India Pale Ale (IPA) brewed with American hops for long-lasting aroma and flavor.

Wee Mac Scottish-Style Ale | 5.3 ABV | 23 IBU

Wee Mac Scottish-style Ale is an enticing and malty brown ale with caramel, cocoa, and hazelnut character balanced with toffee undertones.
---
Scofflaw Brewing Company
Atlanta, Georgia
While they are serious about beer, they say they want to take the time to meet and engage the people drinking our beer as well as their families and to support others in the craft beer community.
3 Beers I hope They Bring
Basement | 7.5% ABV | 40 IBU

Pours a deep persimmon with fluffy khaki foam. The dank aroma emanating from this Basement is one of earthy tones, citrus and a hint of lemongrass derived from Citra hops.

Hooligan | 7.0% | 50 IBU

Hooligan brings big tropical flavor from the Galaxy and Mosaic hops — passion fruit, mango, and pineapple galore with just a hint of biscuit from pale malt. Including berry notes, the aroma keeps the hops forward.

Westside | 7.8% | 65 IBU

Westside IPA is our take on the West Coast-style with an aroma of resinous piney hops up front, an inviting caramel malt backbone, and a boozy bite to boot. You can taste all the malt up front with a lingering pine and rolling citrus hop punch that measure on the Richter scale