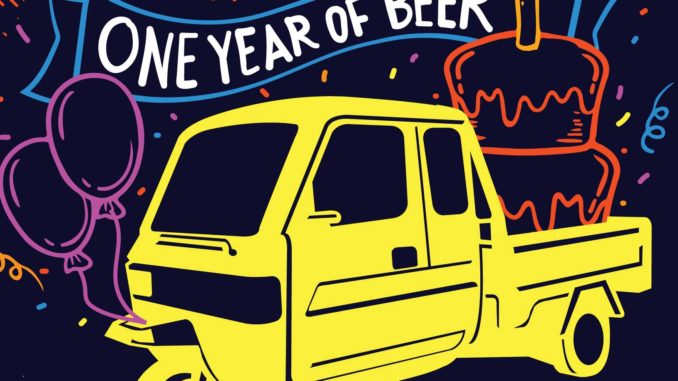 It is not an overstatement to say that it has been hell of a year for Third Wheel Brewing in St. Peters.
The brewery is nearing just its first anniversary, fresh from being named one of the top 50 new breweries across the United States and Canada, in the most recent edition of BeerAdvocate, the leading craft beer publication and online beer community. 
It's thrilling, exciting, and humbling all at the same time!" says Brad Wheeling, co-owner of Third Wheel Brewing. "We haven't been open a year, and to be included on this list is pretty awesome." Wheeling gives much of the credit to their head brewer, Abbey Spencer. He says Spencer's unique spins on classic beer styles are what differentiates Third Wheel Brewing's beer from beer at other brewpubs. "Her double IPA, 'Dyslexic API,' has lactose in it, and 'Ophelia's Wit' adds a hint of rosemary, giving both beers distinct characteristics, versus others of the same style."

Head brewer, Abbey Spencer, says "I'm humbled and honored to have made the list, especially after seeing all the other great breweries mentioned. Some of these breweries I've considered mentors or inspirations, but in reality, these are my peers and colleagues. It makes me take a step back and realize how far we've come and how proud I am of what the Third Wheel Brewing staff and partners have accomplished."
So, now it's time to party.  June will a big month at the brewery, including the much anticpated 1-year-anniversary party which will culminate a week of events.
June 5th
Anniversary Beer Brinner
5 courses of breakfast for dinner expertly paired with Third Wheel Brewing beer!
6:00 Beertails with your choice of a Bloody Mary, Beer Mimosa, or Back Seat Driver (our version of a Screwdriver)
6:30 First Course Served
Course 1- Beer candied bacon skewers served with Enter Sandman Irish Red
Course 2- Honey lime rainbow fruit salad served with Ophelia's Wit
Course 3 – Chicken & waffles w/chipotle maple syrup and bacon crumbles served with Quit Your Day Job Brown Ale
Course 4 – Chèvre and sun dried tomato quiche served with No Pun IPA
Course 5 – Coffee cake with crunchy topping served with Saint Peters' Porter
$30 per person includes tax and gratuity. Tickets online or at the brewery.
June 6th
Anniversary Keep The Glass Night
Toast the 1 year anniversary with your favorite TWB beer and keep the limited edition glass starting at just $10. Then stick around for Beer Bingo at 7. Supplies of glassware are limited so be sure to join in early.
June 7th 
Bottle Release!
Third Wheel is releasing a limited number of bottle of their 10% ABV Imperial Stout BOSS along with a variant Coconut BOSS. Limit of 1 each per person while supplies last. Both of these beers will be on tap from 3:00 – 5:00 the day of release.
June 9th 
1 year anniversary party
Third Wheel Brewing is turning 1! It's been an amazing year, made so many great new friends, and named to Beer Advocate's Best 50 New Breweries List! Come celebrate as we tap up BOSS Imperial Stout and Coconut Boss.
Also enjoy $3 pints of our original 4 beers – Trixie's Pale Ale, Ophelia's Wit, Quit Your Day Job Brown, and Dyslexic API. L
Live music throughout the day as well.