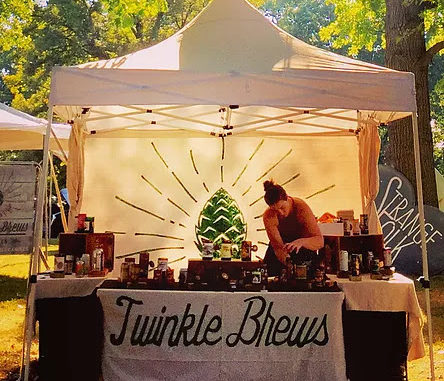 You never know when a walk at the local farmers market will end up with you discovering another new way that smart people can turn beer into a small business. That is what happened to me recently on a recent visit to the Tower Grove Farmers Market.
As I came around the corner, my eye was immediately drawn to the bright yellow can that was this summer's Big Shark + Urban Chestnut Brewing's Radler collaboration. And next to it, were some other cans, and labels I had only seen on bottles. But they weren't cans or bottles of beer my friends, but rather candles.  Candles.
Twinkle Brews, is the name of this clever small business and is the brainchild of Mollie Nickelson.  Nickleson, like any good idea, came up with the idea while drinking beer with friends.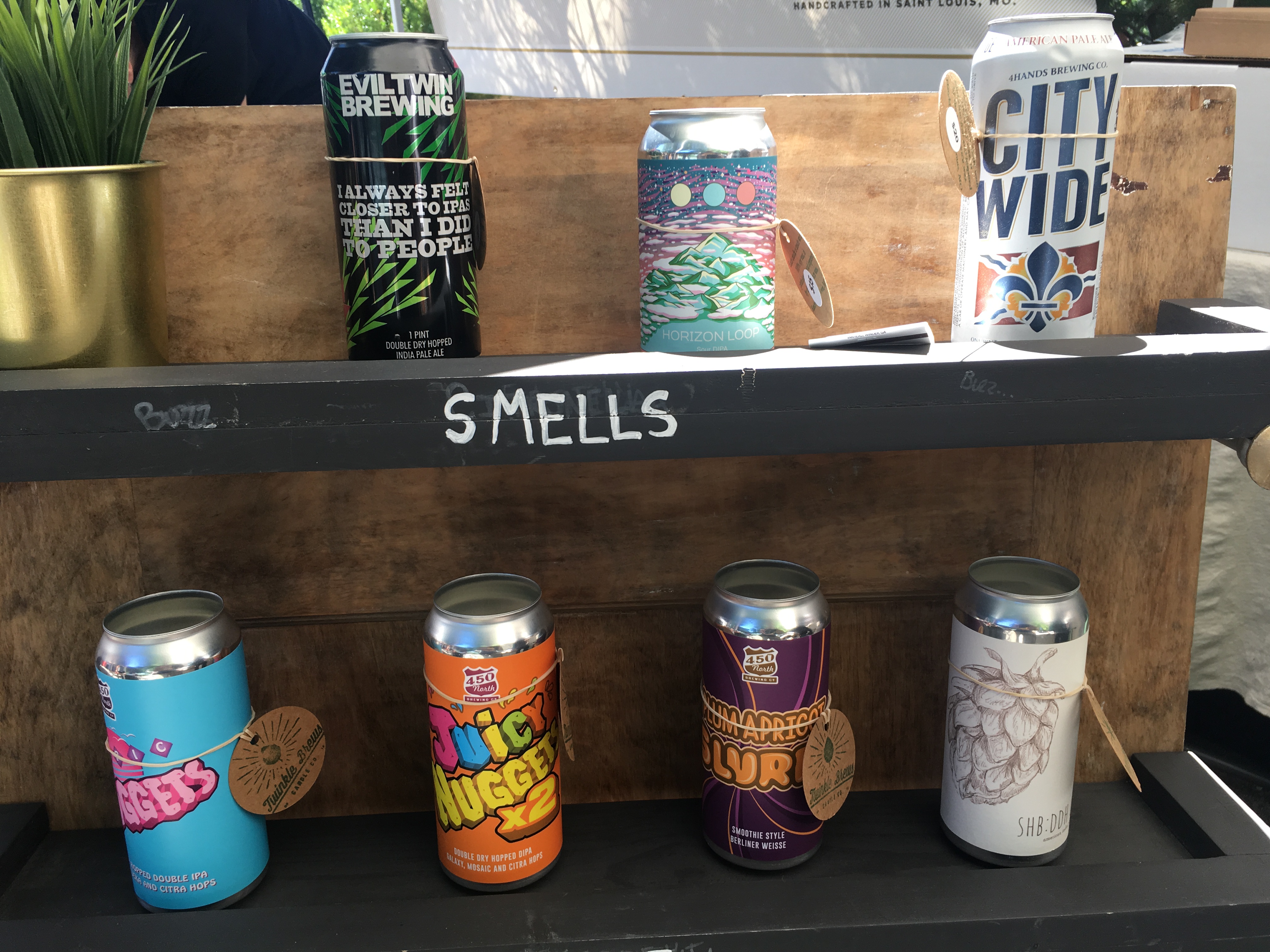 "It was an apple brandy barrel aged stout that smelled like caramel apples and I fell in love with the aroma. I also loved the label. Beer labels are art these days and I hated the thought of throwing it away. I was thinking about how I could capture the aroma of that beer and save the bottle. That's how Twinkle Brews was created!"
Nickelson makes her candles from beer she drinks. But it's not the taste of the beer that determines if a beer will eventually make a good candle, but the aromas.
"I have friends who host bottle shares and they save their empties for me. I've become their recycling center, which is pretty awesome. If I wasn't able to drink the beer, I do research and find out what the main aromatic notes were, then make a fragrance off of those notes."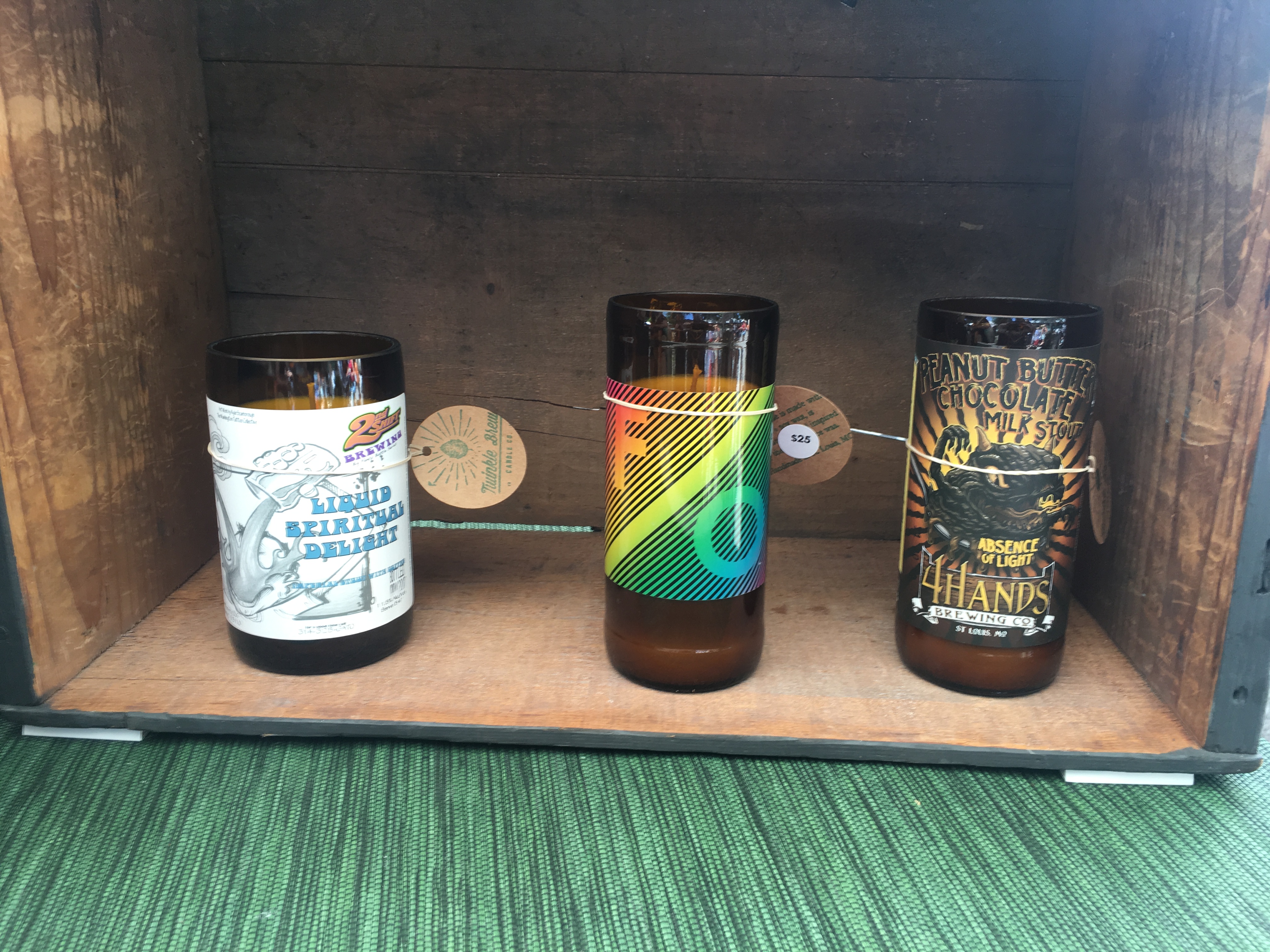 Each beer has its own aromatic notes. Some are complex with a lot of layers. Nichelson takes the main aromas from the beer and blends a fragrance that's inspired by those notes. For instance, a NEIPA might have some bright citrus and tropical top notes, and little resinous pine. Or a bourbon barrel-aged stout might have notes of bourbon, caramel, coffee, and chocolate.
"I make a lot of my fragrances myself from real ingredients and I have even aged some wax in a Stumpy's bourbon barrel to make a line of candles for them. That was fun and I'm exploring a lot more of that stuff now as well," said Nichelson.
"I find the lagers are the most challenging to create a scent for. Light and crisp is difficult to capture aromatically. But really, I haven't found a beer that doesn't make a good candle, they're all delicious!"
Twinkle Brews candles are created using what Nichelson calls upcycling. Upcycling is when you take something that is usually discarded and create another use for it. "So I take beer bottles and cans that would be trash and create a candle out of it so it can be reused. A lot of my customers tell me that when the candle is gone they clean them up and make drinking glasses or flower vases out of them too."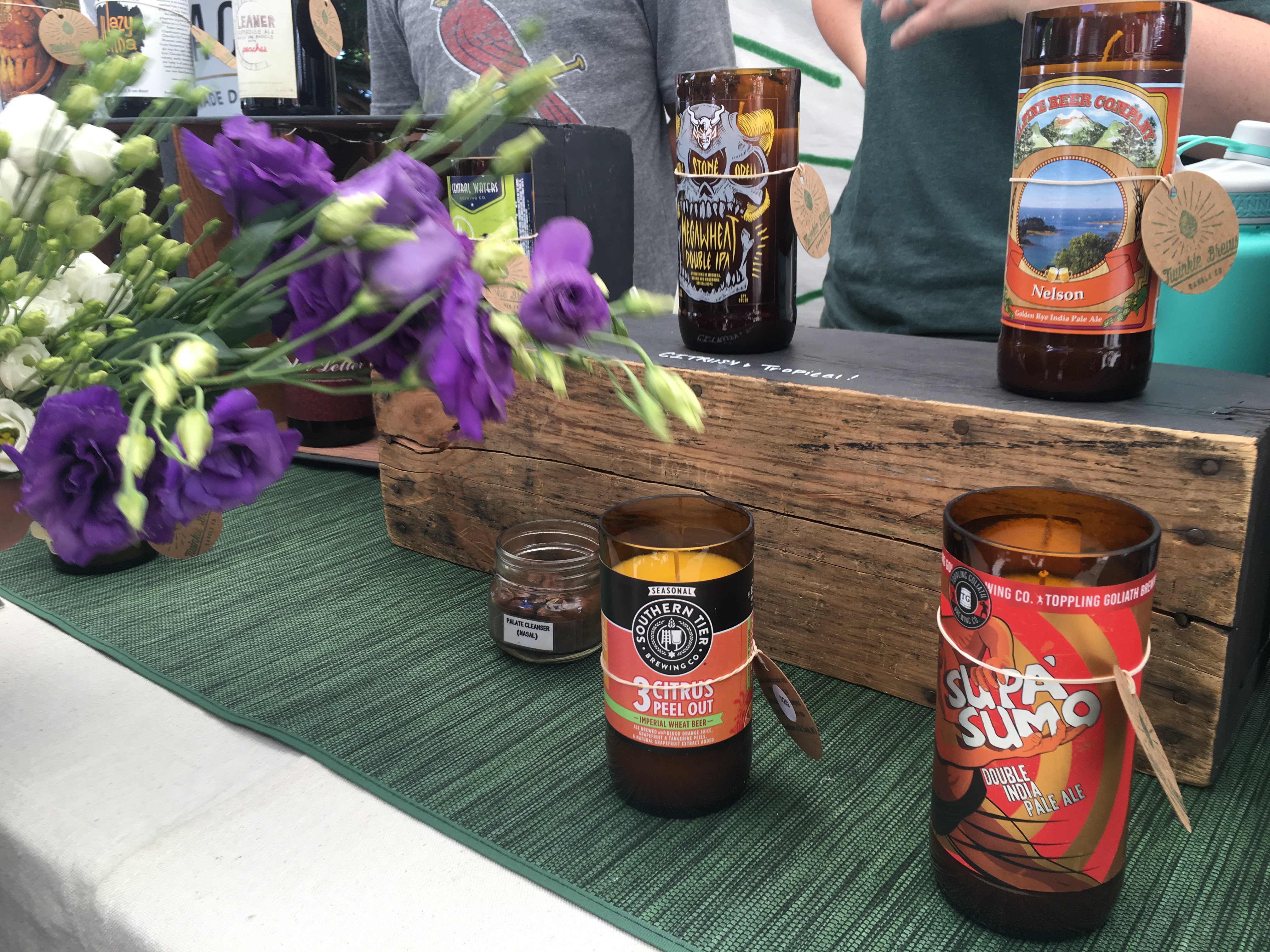 Using special tools, Nickleson cuts the bottles and then sands them down to make sure the edges are nice and smooth.  The bottles and cans get a bath, followed by pouring wax into each container for a one of a kind candle.
Looking to the future, beer and candles will continue to be a huge part of this entrepreneur's life. Her husband Ryan is a part owner of the original Craft Beer Cellar in Clayton.
"My husband is passionate about great beer and introduced me to what's out there," said Nicholson. "My first "craft" beer experience before Ryan was Leinenkugel Summer Shandy. My palate has evolved since then and I love trying new beers but for me the importance of beer in my life is the way it brings people together. We love sharing beer with people, and some of the best beer experiences of my life have nothing to do with what was in the bottle or can and everything to do with who I was drinking with. I've made some awesome friends over beers."
If you are interested in owning your own Twinkle Brews candle, visit their website for more information.