Urban Chestnut's WinterMarkt at the Midtown Brewery & Biergarten
December 1, 2018 @ 12:00 pm

-

4:00 pm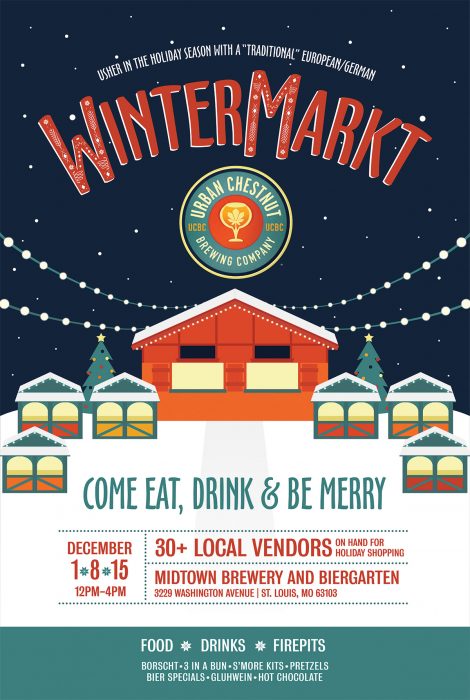 Usher in the holiday season with a "traditional" European/German WinterMarkt at Urban Chestnut's Midtown Brewery & Biergarten (3229 Washington Ave). Come eat, drink, and be merry!
WINTERMARKT 2018
Saturday, Dec. 1
Saturday, Dec. 8
Saturday, Dec. 15
12pm – 4pm
Featuring:
Local vendors on hand for holiday shopping
Food – Borscht, 3 in a bun, pretzels, s'mores kits
Drinks – Bier specials, Glühwein, hot chocolate
Fire pits
And music by Larry Hallar!
SATURDAY, DEC. 1 VENDORS:
30+ vendors from the Tower Grove Farmers Market
SATURDAY, DEC. 8 VENDORS
Arch Apparel
Banker's Best
Benton Park Prints
Bomber Jacket
Envy
Glass Roots Art Factory
J. Girl
Kaldi's Coffee
Lady Grey Beads
Larder and Cupboard
Lark Skin Co.
Mela Knee Art
Newberry Furniture
Ornaments
Patneau Ceramics
Ray Ray's
Rudy's Flower Truck
Series Six
Sprouted Designs
Sutton Lasater Jewelry
Twinkle Brews
Villa Design
West Park Creative
SATURDAY, DEC. 15 VENDORS:
Arch Apparel
Banker's Best
Benton Park Prints
Bomber Jacket
Envy
Glass Roots Art Factory
Jazzy Jewels
J. Girl
Kaldi's Coffee
Lady Grey Beads
Larder and Cupboard
Lark Skin Co.
Mela Knee Art
Newberry Furniture
Ornaments
Oxford Pennant
Post Pouring Co.
Ray Ray's
Resident in Wander
Roaming Soul Apothecary
Rose and Peddle
Scavenge and Bloom
Series Six
Sriracha Granada
Sutton Lasater Jewelry
Twinkle Brews